In Vulci Archaeological Park the day before yesterday, a 2,600-year-old Etruscan tomb that was discovered in April and had remained untouched was opened: here is what archaeologists found inside.
Theincredible discovery, dated April 2023, of the Etruscan tomb in the Osteria necropolis in Vulci had its positive conclusion the day before yesterday, Oct. 27, when there was theopening of the tomb and it was possible to see that the interior was intact, having remained untouched after some 2,600 years. The Vulci Foundation excavation campaign is being conducted by the Soprintendenza Archeologia, Belle Arti e Paesaggio for the province of Viterbo and southern Etruria. After the opening of a similar tomb last April, it was time for the opening of this one, named "Tomb 58," which took place in the presence of the mayor of Montalto di Castro Emanuela Socciarelli, Lazio Region Culture Councillor Simona Baldassarre, area manager for the Soprintendenza Simona Carosi and Carlo Casini, director of the Vulci Foundation and host.
The Etruscan city in the Latium Maremma on the border with Tuscany is confirmed as one of the major centers of Etruria with a role as a hub for trade since the group of archaeologists who opened the ancient tomb were confronted with a vast trove of pottery and amphorae containing wine also from Greece, most likely from the island of Chios. All the objects, utensils and ornamental accessories, cups, bronzes, ironware and pottery, were found in perfect condition, including the attovagliamento for the ritual of the "last meal," and also including the bronze cauldron, items belonging to what must have been a high class family.
In detail, the tomb is very large, double-chambered carved into the tuff, and architecturally noteworthy. The Osteria necropolis, at the entrance to the Vulci Archaeological and Nature Park in the municipality of Montalto di Castro, thus continues to return fragments of our past (the Tomb of the Silver Hands and the Tomb of the Swallow Painter are also here). Research is now set to thoroughly investigate the finds, which have been inviolate for more than two millennia, potentially yielding considerable scientific and historical information about life in Vulci at that time and of its aristocracy during the city's heyday.
As reported by Carlo Casi in the Messenger, in the second chamber, called B, the presence of "two transport amphorae from eastern Greece, Ionian, Corinthian and Etruscan-Corinthian ceramics, as well as buccheri and local impasti. Of note is the presence of a tripod-bowl and iron objects." No small detail. The amphorae are invaluable evidence because they now document "the importance of the wine trade." "To think that the two amphorae in chamber B most likely came from the Greek island of Chios and arrived in Vulci to bring wine from there; on the other hand, no less than four Etruscan transport amphorae for local wine stand out in chamber A."
Also very important is the architectural layout, which "Appears to be characterized by a septum spared in the rock that creates an archway between the dromos, that is, the short corridor with steps, and the vestibule, from which there was access to the two chambers, the front and the left: the one, usual, on the right is missing, evidently because the space had already been occupied by other tombs."
Simona Carosi, archaeologist in charge of the Archaeological and Nature Park, emphasizes how this find "gives us back in an unusual way the actual funerary banquet, as the Etruscans had laid it centuries and centuries ago."
The entrance was occluded by tufa slabs that were extracted one by one little by little, in proportion to the excitement growing in front of archaeologists and others present. "The Latium Maremma and southern Etruria," commented the regional councilor, "are an area very rich in art and culture with a strong tourist vocation that the region intends to enhance more and more also through the financing of excavation work, aware that these are areas that can and must increasingly attract quality tourism."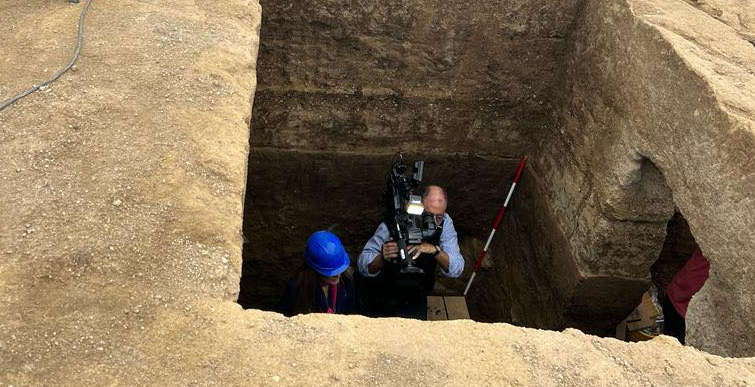 Vulci, archaeologists open an untouched Etruscan tomb: here's what they found there