Strong criticism of the National History Museum in London, which a few days ago hosted a conference of a right-wing populist think tank where over-the-top statements were also made. And the museum was forced to issue a note of heartfelt apology.
There is uproar in England over what happened a few days ago at the National History Museum in London, where a right-wing populist think tank, National Conservatism, held its own conference. The events go back to May 15: the key event of the evening was a talk by Douglas Murray, a journalist and political commentator known for his positions often juxtaposed with the far right (he is highly critical of immigration, Islam, has been an ardent supporter of Brexit, and despite being an avowed homosexual has defended sexual reorientation therapy in one of his books). During his speech, Murray provoked controversy by stating that "there is nothing wrong with nationalism in Britain, it's like there's something wrong with being a nationalist in Germany-I don't see why Germans can't love their nation just because they've been wrong twice in a century."
The museum has been heavily criticized for voicing such positions, which are often misaligned with the museum's values on issues such asinclusion and climate change (National Conservatism has also been criticized for promoting climate change denialist policies). The harshest attack came from Adam Koszary, a culture communications expert, who tweeted, "Values for national museums only matter if they don't lose money on them." The matter is a sensitive one: the National History Museum, like many museums around the world, rents its space for a fee, but could run into trouble if a refusal to grant it to a political association could be interpreted as being motivated, precisely, by political reasons.
Initially, the National History Museum merely emphasized that no museum employees or staff members attended the event, then made it clear that the institution "supports diversity, equality and inclusion of all people," and that granting the rooms does not mean supporting the views of those who rent them.
But even that was not enough, and so, two weeks after the event, on June 1, the museum issued a lengthy note of clarification, in which the National History Museum also apologized for what had happened. "If we want to create advocates for the planet and fulfill our mission to galvanize a movement of millions across the planet to speak out and act for nature, then we must be the most inclusive Museum we can be," reads the statement posted on the museum's official blog. "Our vision is a future where both people and the planet thrive, so we must be a museum for all people. We know we are racing against time and there is much work to be done. We do not want to shy away from acknowledging our origins and our past: the Natural History Museum was founded in the context of empire, colonialism, and exploitation, and the hallmarks of this legacy exist in our collections and galleries. We know that we have to face uncomfortable truths and take proactive steps not just to tell, but to show, what we are doing to overcome misconceptions about who the Museum is today."
Here is then the apology: "We were horrified and saddened to see some hateful rhetoric expressed at a private event at the Museum and then shared on social media recently. Had we foreseen some of the rhetoric expressed at the event, we would not have allowed it to be held at our museum. We should have anticipated this, but due to an error our usual processes were not followed and we take full responsibility. We are taking immediate steps to correct the mistakes that led to this and are consulting with colleagues on how best to use the proceeds from this rental of our venue."
For the museum, it was "particularly distressing" to see an image of Hope, the museum's iconic whale skeleton, used to illustrate a tweet steeped in "rhetoric that downplayed the horrors of the Holocaust" (the reference is to Murray's statements above, echoed in a National Conservatism tweet in which Hope's image appeared). "We did not report and reject these posts as we should have done when they were first published and attracted attention. We want to apologize and unreservedly reject any association of these posts with the Museum."
"We want to make it clear," the museum concludes, "that we totally abhor the statements made and regret that they were shared with images of the Museum. None of our colleagues participated in this event (which was hosted by a third party who rented the space), but we did not make that sufficiently clear in our response. [...] We know that we still have much to do to make the Museum a welcoming space for all and that new and growing collaborations require trust that can be easily eroded. Engaging and involving the widest possible audience is central to our mission: we apologize for our mistake, for associating these views with the Museum, and we are committed to doing better."
Pictured is the disputed photo, posted by the National Conservatism Twitter account: Douglas Murray under Hope.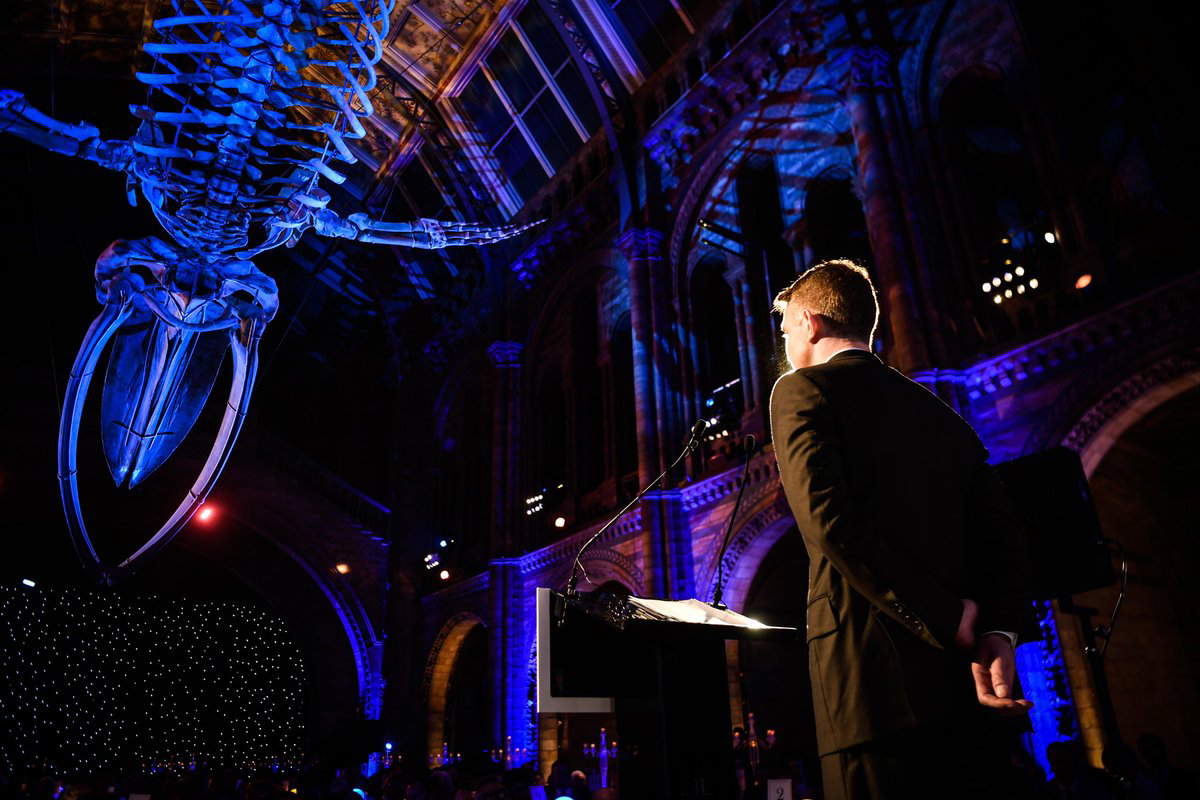 London, National History Museum hosts populist right-wing conference. And apologizes