Considered one of the most important exponents of Magic Realism, Ubaldo Oppi was one of the major artists of the early 20th century.
Ubaldo Oppi (Bologna, 1889 - Vicenza, 1942) was one of the initiators of the Novecento group, founded in 1922 in Milan. He is also considered one of the leading exponents of Magic Realism, whose peculiarity lies in the inclusion of typically classical elements such as drapery or architecture, a legacy of Oppi's studies of 15th-century Italian painting, and human figures in a setting suspended in time, rarefied.
Oppi's personal events influenced his painting, for example, during a period of imprisonment in Mauthausen he produced warlike works depicting men of the proletariat seen with a pietistic gaze, or in the last period of his life he had a mystical crisis that led him first to fully adhere to Catholicism, and then to devote himself to works exclusively with a religious theme.
Despite some variations on themes, Oppi's unmistakable style, defined as one of "modern classicism," remained constant and consistent throughout his pictorial activity.

The Life of Ubaldo Oppi
Ubaldo Oppi was born in Bologna on July 29, 1889. His mother's name was Guglielma Mantechini, and his father Pompeo was a shoe merchant. The latter wanted Oppi to study commercial technology in Austria and Germany, so he could also learn the German language in addition to the basics of trade. However, Oppi could not give up his innate passion for drawing, which led him to enroll, rather, in the Nude School of Gustav Klimt 's Academy in Vienna in 1907.
Over the next three years Oppi continued to study painting, particularly landscape and figure painting while traveling between Germany, the Czech Republic, Hungary, Russia, and Romania. He returned to Italy in 1910 and settled in Venice. Here, he began his artistic career by exhibiting his works for the first time at the V Esposizione d'arti e industrie veneziane in the Ca' Pesaro gallery. The following year he moved back to Paris, where he stayed for a time and became acquainted with contemporary artists Gino Severini and Amedeo Modigliani. He also had a troubled love affair with Fernande Olivier, the companion of Pablo Picasso.
At the outbreak of World War I, Oppi again returned to Italy and enlisted in the Alpine Corps. He was also taken prisoner and taken to Mauthausen for several months. Shortly before he was taken prisoner, Oppi had gotten to know Margherita Sarfatti, who mentioned the artist in a series of writings in which she described him as a man of great stature and few words, "as an authentic Alpine." Sarfatti was struck by the marks Oppi was tracing on a small marble table. After returning again to Paris in 1919, where he stayed for three years and married Adele Leone, known as Dehly, his muse and model for several of his paintings, he returned once more to Italy to settle permanently in Milan. He organized two solo exhibitions in 1922 at the Galleria Bottega di Poesia in Milan and another at the Bragaglia art house in Rome; he also participated in the Salon d'Automne again in Paris. Toward the end of the year he began to meet at the Pesaro gallery in Milan with the owner, Lino Pesaro, and Margherita Sarfatti, and then began to collaborate with those who with him became the seven painters of the Novecento group: Leonardo Dudreville, Emilio Malerba, Pietro Marussig, Mario Sironi, Achille Funi and Anselmo Bucci. Their first official exhibition as a group took place in 1923, right in the Pesaro Gallery. For several months, the artists exhibited their works in the gallery on a rotating basis, having agreed by common consent that exhibition activities should always be exclusively group-based.
Despite this rule, Oppi organized a solo exhibition in 1924 with the help of one of his admirers, critic Ugo Ojetti, an episode that originated heavy discontent within the group. At the Venice Biennale that year, there was a clear separation and both the painters of the Novecento group, renamed "Six painters," and Oppi alone showed some works in the Italian Pavilion. He still managed to maintain good relations with Margherita Sarfatti, who then invited him to exhibit at the first Novecento Italiano exhibition in 1926. Meanwhile, Oppi was honored with an important award at the XXIV International Painting Exhibition of the Carnegie Institute of Pittsburgh in the fall of 1925, where he won second prize with the work Il Nudo Disteso, and in the following years he continued an intense exhibition activity, both in Italy and abroad, from New York to Berlin. He then moved away permanently from l Novecento group in 1928.
In 1930 the painter organized an anthological exhibition of his early works dated between 1913 and 1921, at Galleria Il Milione in Milan.
He participated for the last time in the Venice Biennale in 1932 and later decided to settle permanently in Vicenza, where he retired in solitude, painting very rarely. He was called to arms in 1941, however he soon had to return to Vicenza because of major health problems that caused his death on October 25, 1942.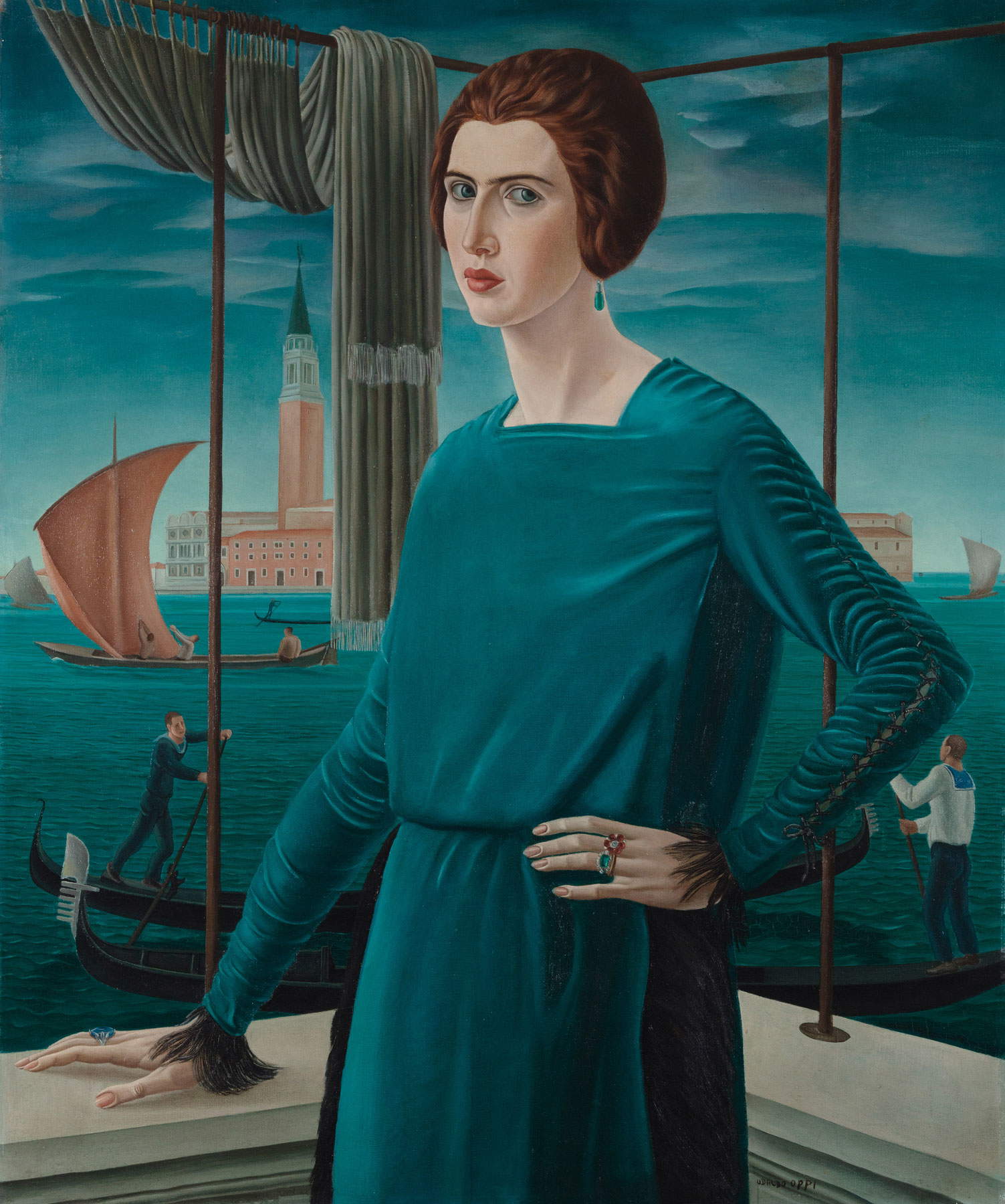 The style and works of Ubaldo Oppi
Oppi favored in his works an adherence to a classicism that can be defined as modern, in that it is characterized by melancholy and nostalgic tones and a tendency toward symbolic abstraction. These characteristics are accentuated by the presence of metaphysical architectural elements in his works. The study of Italian masterpieces of the 15th century inspired Oppi early in his career for some paintings in which the influence of Sandro Boticelli appeared evident, men and women dancing in nature without veils being present. Nature for Oppi, however, was not just an environmental pretext in which to place figures, but a way to give the works a feeling of mystery and suspension in time that was decidedly mystical and metaphysical. The figures are depicted by Oppi with a characteristic veil of melancholy in their faces and with enigmatic gazes, as if they had the ability to see something hidden from most.
As shown by Oppi's works in his debut exhibition at the V Venetian Exposition of Arts and Industries, at Ca' Pesaro in 1910, he made pastels of landscapes and portraits in muted colors.
After his beginnings, Oppi moved closer to Symbolism and for a brief period to Futurism, recognizable in the work Strada a Venezia (1911). Also dating from this period are the works Woman with Sleeve (1911) and Two Women (1912-1913), in which a certain influence of the expressiveness of the Fauves emerges. The following year Oppi enlisted and was taken prisoner at Mathausen, where he was able to continue to make drawings and watercolors with themes inspired by the war. The protagonists of the oepres of this period are mainly men of the proletariat, whose toil and misery are emphasized through a pietistic point of view. Oppi declared, in fact, that living through the war had taught him to feel "An infinite love for men."
Later, in the years between 1913 and 1914, Oppi concentrated mainly on watercolors, initially monochromatic in shades of blue, and then with more shades of colors, always maintaining the characteristic surreal feeling. These works include Figures at the Bar (1913), which would appear to be inspired by Picasso's blue period, although Oppi claimed to have known him later. Constant in Oppi's painting remained the depiction of stories of marginalization, amid misery, loneliness and poverty. The protagonists here became pale, emaciated, and Oppi painted them with characteristic almond-shaped eyes veiled in sadness and resignation.
At the end of World War I, Oppi softened his works a great deal , abandoning symbolism and emaciated figures in favor of more serene works. In this same period his works are listed at the Salon des Indépendants in Paris as among the most significant because of their elegant objectivity. Oppi's works fitted perfectly into the postwar artistic currents that promulgated a return to figurativism, extrapolating figures from their natural everyday context to place them in a rarefied, timeless and ambiguous atmosphere, abstracting and isolating them. Franz Roh identified Oppi as the most representative artist of Magical Realism, the current he theorized, while Margherita Sarfatti would define his work in some writings as "modern classicism." His 1920 work Double Portrait attracted critical attention and anticipated the full classicist turn that occurred in 1922, when he presented Ritratto della moglie sullo sfondo di Venezia (1921) at the Salon d'Automne.
After meeting Margherita Sarfatti and joining the Novecento group, Oppi was involved in a scandal, as one of his works entitled Conca fiorita (1923) was considered too licentious and thus censored. Following his departure from the Novecento group, Oppi exhibited paintings at the 1925 Biennale that included landscapes and large figure scenes, such as The Young Bride (1922-1924) in which Antonello da Messina's St. Sebastian is cited, and The Friends (1924). Around 1927, as part of a solo exhibition at the Pesaro Gallery in Milan, he exhibited the work The Surgeons.
In the meantime, Oppi was beginning to experience a mystical crisis, which led him to convert to Catholicism in 1928, and to devote himself to works with a religious theme, anticipated a few years earlier by the altarpiece of St. Venanzio Fortunato bishop of Poitiers praising the Cross, for the parish church of Valdobbiadene. One of Oppi's last works dates from the years between 1930 and 1932: these are the frescoes he painted for the chapel of St. Francis in the basilica of St. Anthony in Padua, a clear example of the application of Novecento classicism on wall painting. He then devoted himself to some frescoes for the church of Santa Maria in Bolzano Vicentino (1934-1935) in which one can recognize in the background the places of the war where the artist had fought.
During this period the environments of his works were bare, but decorated with large draperies resembling theater curtains. The human figure, particularly female, became softer and more sinuous, increasingly akin to the figures of classicism. Oppi's last works were mainly commissions that came from private individuals, or reworkings of past works.


Where to see the works of Ubaldo Oppi
Many of Oppi's works are part of private collections, including Woman with Sleeve (1911), Two Women (1912-1913), Figures at the Bar (1913), Country with the Harbor (1914), Portrait of Wife against the Background of Venice (1921), The Friends (1924).
The following paintings are in some Italian museums, in chronological order, The Young Bride (1922-1924) which is in the Museum of Medieval and Modern Art in Padua, The Glasses of Murano (1925) at the Museo del Novecento in Milan, The Surgeons (1926) in the Pinacoteca di Palazzo Chiericati in Vicenza, and Nude at the Window (1926) at the Galleria Antologia in Monza. Also worth seeing are the above-mentioned frescoes made for the Chapel of St. Francis in the Basilica of St. Anthony in Padua (1930-1932).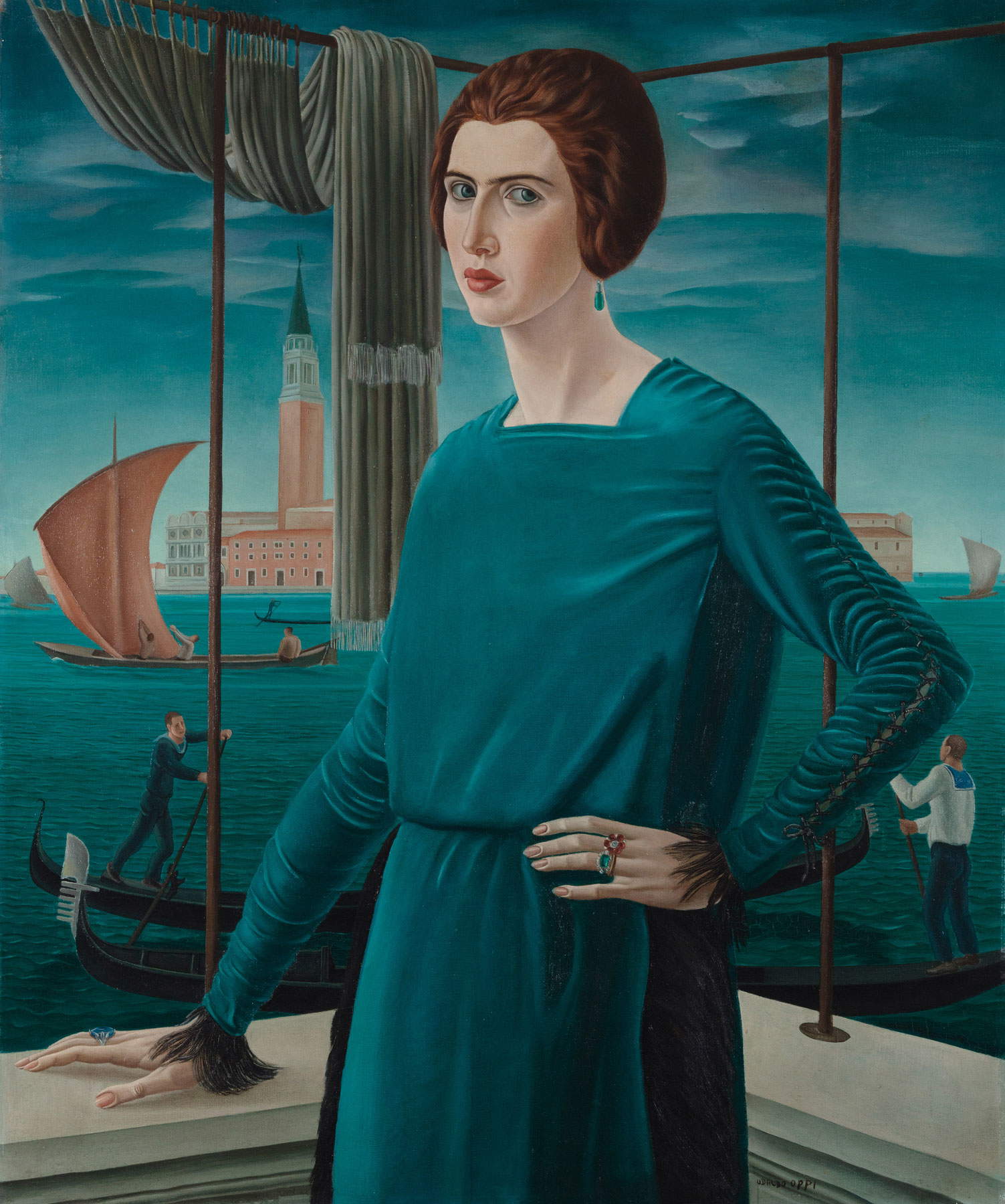 Ubaldo Oppi, among the leading exponents of Magic Realism. Life, works, style